The pictures on this page are by UK artist, Cecil Riley, who lives with both macular degeneration and CBS.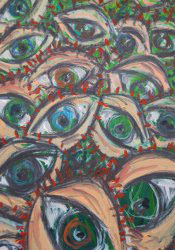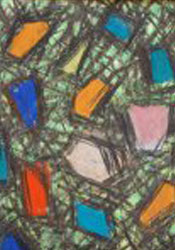 Cecil, now 95, lives in Penzance, Cornwall (South-West England) overlooking the sea.  When he started to have phantom visions of eyes, geometric patterns and gargoyle faces appearing in front of him, he felt a mixture of intrigue and anxiety.
Since learning of Charles Bonnet syndrome, Cecil has chosen to explore his phantom images through artistic expression.  
In March 2013, Cecil's works were included in a special art exhibition in Oxford, London entitled Affecting perception: Art & Neuroscience. For more details: